December 2007
Spec Home vs. Resale Prices
This article offers an overview of the spec home list pricing trend and the resale sales price trend over the last couple of years. Contrasting these two trends provides valuable insight into pricing issues.
During most of this time period the median resale sales price has been basically flat, while for the past 14 months the new spec home list price has been steadily falling.  It would be beneficial to look at both of these trends over the full time period, but unfortunately our source of spec pricing data is not available prior to June 2006.  However, the presentation of these 18 months of data does offer these valuable insights:
1. Spec list pricing has been falling for the last 14 months.
2. Spec list pricing is down 14.7% in the last 14 months.
3. Resale sales price has fallen for only four out of the last five months.
4. Spec pricing began declining about nine months before resale pricing.
<![if !vml]>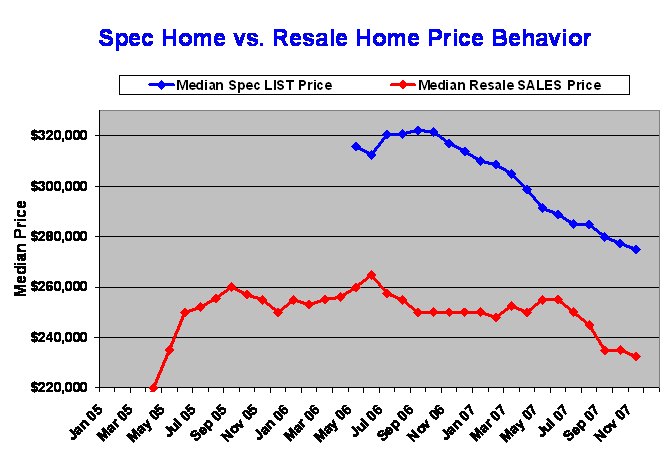 <![endif]>
Resale Home Sales Price vs. Historical Norms
<![if !vml]>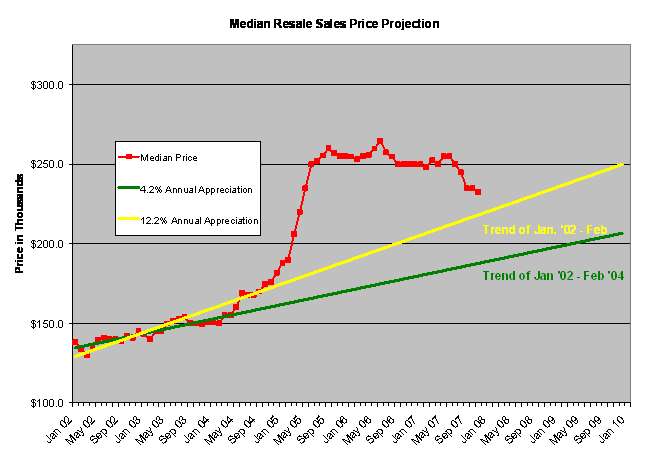 <![endif]>
The source of the data for our spec pricing study is the specs that are listed in the Ultimate New Homes Database. This is not an all inclusive list of specs, but is fairly representative of whole.  Some, but not all, of the spec pricing data includes some of the incentives being offered by the builders.  The source of the resale pricing data is ARMLS.
These statements above are facts.  The statements I am listing below are suppositions that I have made from the above facts:
1. Spec new home pricing is leading the resale market by six to nine months.
2. There is a limit as to how far prices will fall.
3. Specs home pricing will reach that limit before resale home pricing.
4. Resale home prices will likely fall substantially more over the next six months.
4. The best economic time to buy is when home prices are nearing the lower limit.
5. Spec homes may be nearing that lower limit*.
6. Because of pent up demand, pricing will likely rebound quickly once bottom is reached.
From my perspective, the bottom line is, "Now is a once in a lifetime opportunity to deal on specs".  For individuals open to considering a new spec home as a residence, don't wait too long.  How many times have you heard, "If only I had acted?"  Don't let this be one of those times for your clients.
*Additional charts and detail to support this statement are currently being prepared for use by the Ultimate SuperBowl Club.  If you want more information on this special information, click here,
<![if !supportLineBreakNewLine]>
<![endif]>
Copyright® 2007 - This information is compiled and written by Ultimate Information Systems, Inc. Use of this article, in part or in its entirety, is expressly prohibited without written permission. Click here to request limited rights to reuse this information.